June 24th, 2008 by admin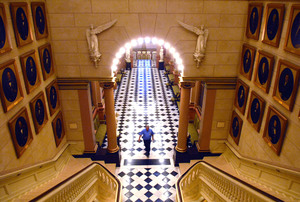 The Masonic Temple of Philadelphia has always been shrouded in levels of mystery, but one of those will begin being lifted in time for the temple's 135th anniversary Sept. 26.
"I think you'll see scaffolding start to come down in the early fall," said Andrew A. Zellers-Frederick, executive director of the Masonic Library and Museum of Pennsylvania, who is overseeing the exterior restoration, expected to cost $8 million to $10 million.
The temple, on Broad Street just north of City Hall, is home of the Grand Lodge of Free and Accepted Masons of Pennsylvania.
Posted in Blogroll | No Comments »